Dates:
05/06/2017 - 05/07/2017
Meets on:
Saturday Sunday
Time:
9:30am - 4:30pm
Tuition:
$215
Level:
All Levels Welcome
Instructors:
Hamid Zavareei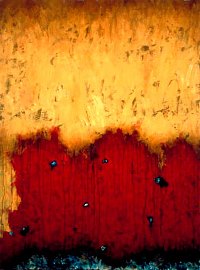 Investigate the different characteristics and effects achieved by employing beeswax as a medium to a painting. Learn the basics of this ancient, luminescent medium, including material, surface and painting techniques as students explore a range of encaustic applications: from the simple application of clear hot wax medium on a painting surface to layering, incising, transferring and imbedding of images along with other techniques.

Group and individual instruction includes techniques for heating, mixing and application of layers and methods of working into the wax layers. $25 partial materials fee payable to instructor.
FOR MORE INFORMATION…

Please click here to learn more about your instructor, class level and medium. For specific inquiries, emails may be directed to this instructor here.

After you have registered, we will shortly send out an email that includes information such as parking, classroom location, etc.

**EARLY MEMBERSHIP REGISTRATION WILL BE AVAILABLE FEBRUARY 9TH. REGISTRATION FOR THE PUBLIC WILL BE AVAILABLE FEBRUARY 13TH. To learn how to become a member, please go here.
Supply List:
Please note that there is a $25 partial materials fee payable to the instructor (by check or cash) which includes:
Wax (2 pounds) You have the option to provide this yourself and pay no material fee   Optional: Additional blocks of wax  Wax can be purchased from instructor upon request
Paint: Stockmar beeswax blocks, 16 colors or 8 colors (available online) reasonably priced;
Stockmar Beeswax Block Crayons, Set of 16, Order through Amazon
Or
Caran d'Ache Neocolor I Wax Pastels, Order Through Dick Blick
Or
Jumbo beeswax crayons, Order Through Dick Blick
Please have a set on the 1st session   Medium: Dammar Resin/crystals; please have this on the 1st session
Required:
Brushes: A large flat bristle* utility brush, 2-3 inches wide, Hake brush or a chip brush from hardware store Bristle* filberts: 1/4" 1/2", 3/4", a couple of each Assorted utility cheap bristle* brushes  *Hog bristles are best
Painting surfaces: Several panels or cut plywood (not canvas boards or canvases) approximately 12×9" and at least one larger one approximately 15″x20", preferably coated with encaustic compatible gesso or absorbent gesso
Please have at least one panel ready to go for the first class.
Miscellaneous: Muffin tin for 6 muffins to make encaustic cakes, flexible Teflon are best and 6 tuna cans or other metal cans  One loaf pan (thrift stores or dollar stores are the best place for these and muffin tins) Paper towels Popsicle sticks/chop sticks/tongue depressor or similar for stirring wax  Stencils  Please bring these to the first class. The stencils can be an exception. We will talk about it in class. Other tools will be discussed in class too. If you have questions please contact me; zavareei@msn.com