Dates:
03/27/2017 - 03/31/2017
Meets on:
Monday Tuesday Wednesday Thursday Friday
Time:
9:30am - 4:30pm
Tuition:
$660
Level:
All Levels
Instructors:
Nicholas Enevoldsen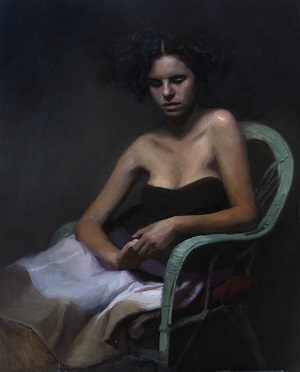 This workshop provides a unique opportunity to study with a former principal instructor of the Florence Academy of Art in Florence, Italy.

Exploring the richness of oil paint, students will create a long pose figure painting from direct observation and learn a step-by-step approach for capturing a model's likeness.

Nicholas will present live demonstrations, individual critiques, and a series of lectures designed to equip students with techniques for mixing flesh tones, paint application, and how to imbue their work with a compelling sense of light, atmosphere, and form.

ABOUT THE INSTRUCTOR Nicholas Enevoldsen is an emerging artist living and working in the Seattle metropolitan area. At the Laguna College of Art & Design, in Laguna Beach, California, he received a BFA in Studio Art along with various awards and scholarships, including the coveted "Passport to China" scholarship in 2006. After graduating, he devoted four years of intensive study at the Florence Academy of Art in Florence, Italy. As a student, he was appointed 'Principal Instructor' for the Intensive Drawing Program and awarded the "Fourth Year Prize" providing an additional year of specialization. Nicholas has since completed his MFA at the Lesley University College of Art & Design, in Cambridge, Massachusetts and relocated to Seattle where he actively draws and paints and serves as 'Adjunct Professor' at Shoreline Community College and 'Instructor' at the Kirkland Arts Center.
FOR MORE INFORMATION…

Please click here to learn more about your instructor, class level and medium. For specific inquiries, emails may be directed to this instructor here.

After you have registered, we will shortly send out an email that includes information such as parking, classroom location, etc.

**EARLY MEMBERSHIP REGISTRATION WILL BE AVAILABLE NOVEMBER 10TH. REGISTRATION FOR THE PUBLIC WILL BE AVAILABLE NOVEMBER 14TH. To learn how to become a member, please go here.
Supply List
Stretched canvas/linen, or wood panel: any size between 16 x 20 in. – 24 x 36 in.
Palette: Wood, glass, or paper
Palette Knife (medium size)
Refined Linseed or Walnut Oil
Metal Cups (for containing oils)
Vine Charcoal: soft or medium
Gamsol Odorless Mineral Spirits by Gamblin
Brush Cleaning Jar
Paper Towels
Plastic Tupperware container (for preserving paint mixtures)
Handheld mirror
Oil Colors:
• Beginner Palette: ivory black, cad. red medium, yellow ochre pale, white
• Intermediate or Advanced Palette:
Burnt Umber (Windsor & Newton Artist Series = W/N)
Raw Umber (W/N)
Old Holland Violet Grey
Ultramarine Blue (Michael Harding)
Cobalt Blue
Cerulean Blue
Alizarin Crimson
Burnt Sienna (W/N)
English Red (Old Holland)
Cadmium Orange
Cadmium Red Light
Yellow Ochre Pale (W/N)
Titanium Nickel Yellow (Old Holland)
Titanium White or Cremnitz White
Recommended Brushes:
• Royal & Langnickel: Vienna Series (7500F) White synthetic bristle
Sizes: 1, 2 (Flats) 4, 6 (Filberts not brights)
• Raphael: Martre (8622) Long Handle Sable
Sizes: 6, 10, 12 (Pointed Filberts)
• Robert Simmons Signet Series: Filbert Bristle Brushes
Sizes: 0-2 Windsor & Newton Galleria: Round Synthetics
_____________________________________________________________________________
Brushes: I use different types of brushes for various tasks applying 'the right tool for the right job'. I will present and discuss various types of brushes and my experiences with each of them in class. However, please bring any previously owned brushes and paint to class.
For any questions regarding materials please contact me via email: nicholas.enevoldsen@gmail.com