Dates:
04/12/2017 - 06/14/2017
Meets on:
Wednesday
Time:
6:00pm - 9:00pm
Tuition:
$435
Level:
All Levels Welcome
Instructors:
Brian Snoddy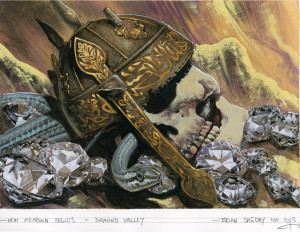 In the Illustration Part-Time Program, students learn how to build realistic imagery from the ground up. This class is geared toward classical artists and industry artists alike. Students learn how to understand the visual properties that surround us, not just copy them.

For example, if an artist understands what properties make glass of wine look like a glass of wine, and how the environment around it affects its appearance, they can paint one into their composition convincingly without necessarily setting one up in their studio.

Using traditional materials (graphite, ink, and gouache), students first learn core illustration abilities in black and white. These subjects include layering, blending, and rendering various types of surfaces, such as wood, metal, rusted metal, etc. Students then learn more advanced techniques in color. After establishing core abilities, they work on a series of projects, building in scope and complexity over time.

This class is an ongoing program that has a 1 year curriculum cycle. Students may begin at the beginning of any term and may also choose to continue their 'apprenticeship' past the 1 year cycle. For these students, their projects are tailored to further growth and reduce redundancy if necessary.
Special Notes:
This workshop will be taking place at our GAGE SOUTH LOCATION

Gage South at Equinox Studios in Georgetown
6520 5th Ave S. 98108
Please contact us about registering for this program.
FOR MORE INFORMATION…

Please click here to learn more about your instructor, class level and medium. For specific inquiries, emails may be directed to this instructor here.

After you have registered, we will shortly send out an email that includes information such as parking, classroom location, etc.

**EARLY MEMBERSHIP REGISTRATION WILL BE AVAILABLE FEBRUARY 9TH. REGISTRATION FOR THE PUBLIC WILL BE AVAILABLE FEBRUARY 13TH. To learn how to become a member, please go here.
Supply List
DRAWING… this is the first week or so.. students should bring every/any kind of pencil, ruler, eraser, template, and paper that they like… I will also supply many of these things for learning and expsirimentaion.
INKING… this is the second to forth week.. students should bring india ink, various brushes, brush pens, pen nibs ( I prefer a HUNT 102) and some kind of white out or gouache white paint, and a toothbrush. Also a 100% rag/cotton bristol board ( 2 ply).
PAINTING… these are the last weeks of the class.. this is just a black and white painting class……. so just three or four sizes of brushes.
I recommend #0, #1 #3 round, and a 1 inch flat brush.
Also…. 1 inch wide masking tape, a hair drier, and 100% rag/cotton bristol board (2 ply)…
also a wooden, plastic, or heavy cardboard surface to tape the paintings down to, and water container and cups to mix the paints.