Dates:
06/19/2017 - 06/22/2017
Meets on:
Monday Tuesday Wednesday Thursday
Time:
9:30am - 4:30pm
Tuition:
$540
Level:
All Levels Welcome
Instructors:
Ellen Eagle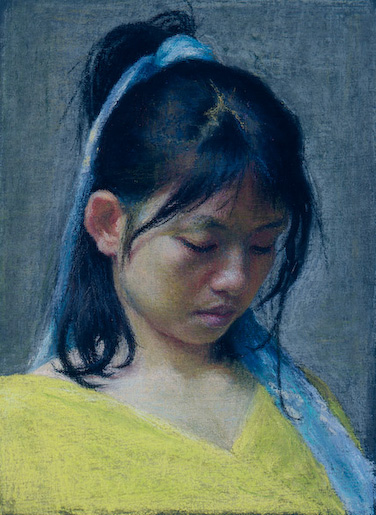 Working from the model, learn to weave layers in the brilliant medium of pastel. Observe form, color and value relationships with a clear eye, and distill complex information into a simply expressed, harmonious construction.

Engage in intense color analysis and develop the skills of comparing shapes, color and values. Each day will begin with a portrait demonstration. Following initial brief sketching sessions, there will be one model, one pose for the four mornings, and a second model in a single pose for the four afternoons.
Please contact us about registering for this program.
FOR MORE INFORMATION…

Please click here to learn more about your instructor, class level and medium. For specific inquiries, emails may be directed to this instructor here.

After you have registered, we will shortly send out an email that includes information such as parking, classroom location, etc.

**EARLY MEMBERSHIP REGISTRATION WILL BE AVAILABLE FEBRUARY 9TH. REGISTRATION FOR THE PUBLIC WILL BE AVAILABLE FEBRUARY 13TH. To learn how to become a member, please go here.
Supply List
Because we never know what colors we will see in our subjects, it is important to have available for our use as many colors as possible. A large set of pastels can be financially daunting, but a set is a one-time purchase: each stick has a very long life, and the replacement of even frequently used individual sticks is necessary only on occasion.
REMBRANDT SOFT PASTELS
I recommend the largest set of REMBRANDT soft pastels that you can afford. (The largest set contains 225 sticks; the 150-stick set is also excellent.) If you choose to begin with a smaller set, it is advisable to supplement it with some individual Rembrandt sticks, so that your total selection includes at least a few shades of the widest range of colors possible.
NUPASTELS
It is important to have Nupastels, the largest set you can afford. (The largest set contains 96 sticks.)
PAPER AND BOARDS
Of the pastel papers, I like Canson for the weight and texture, and wide availability. Canson makes a Steel Grey and a Felt Grey, which are both good neutrals. Bring about 5 sheets (some of these papers are for cushioning between your working paper and backboard). The paper measures slightly larger than 19″ x 25″. Art Spectrum Gray paper is also good. Some of my students love the Wallis paper (it's a bit expensive). Two pieces of white foam core board, same size or slightly larger than your paper. One will be your back board, one will be an overnight cover. If you prefer to work on pastel boards, that's fine.
ADDITIONAL MATERIALS
X-acto knife or mat cutter, ruler and straight-edge to cut your paper and backboard down to size, if you wish to work smaller than the paper and board are manufactured.
Four clips, such as bulldog (approximately 3″ size), or the long, slide-on type
Charcoal, hard and soft
Charcoal sandpaper block
Razor blades, single edge
Paper towels
Drawing pad – I like Strathmore 400 Series, 8 x 10, in. or smaller
Any pencils you like to use. I like Faber Castell. Bring a few, from B to 8B
Kneaded eraser
Hand -held mirror