Dates:
05/18/2017 - 06/15/2017
Meets on:
Thursday
Time:
1:30pm - 4:30pm
Tuition:
$245
Level:
All Levels Welcome
Instructors:
Patrick LoCicero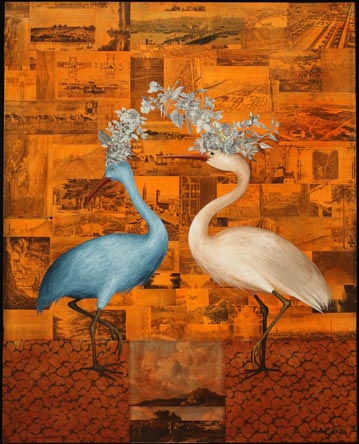 Learn the processes and skills needed to energize and make the surfaces of paintings complex, nuanced and rich with meaning. Explore the historical tradition of collage from Schwitters to contemporary mixed media artists.

Through the process of mixed media, found object and collage students will explore various background layering techniques in order to create rich and textured relationships between collaged surfaces and images.

Learn how to integrate dissonant materials in a composition to create a successful finished work of art. Historical and Contemporary examples will inspire students to find their own voice in a course that will take them on an inner journey of discovery and lead to a unique and personal iconography.

Learn color theory, composition, proper formatting and integrated image structures. Alternative and non-traditional materials will be encouraged along with more standard media.

This is a contemporary mixed media course that will redefine preconceived notions of collage.
Please contact us about registering for this program.
FOR MORE INFORMATION…

Please click here to learn more about your instructor, class level and medium. For specific inquiries, emails may be directed to this instructor here.

After you have registered, we will shortly send out an email that includes information such as parking, classroom location, etc.

**EARLY MEMBERSHIP REGISTRATION WILL BE AVAILABLE FEBRUARY 9TH. REGISTRATION FOR THE PUBLIC WILL BE AVAILABLE FEBRUARY 13TH. To learn how to become a member, please go here.
Supply List

Scissors
Single Edge Razor Blades or Xacto Knife
1" or 2" Chip Brush
Two 12 oz jars or plastic containers
One 12" to 16" Metal Straight Edge
One ½" or 1 ½" Elephant Board Wood Panel, Size Optional, no smaller than 18" x 24"
Assortment of Paints (Can work in Oils or Acrylics 3.7 ml. , student or professional grade)
Titanium White
Mars Black
Burnt Sienna
Burnt Umber
Cadmium Yellow Medium Hue
Ultramarine Blue
Cadmium Red Medium Hue
Hansa Yellow
Disposable Palette /Optional Glass Palette
Palette Knife/Optional Flexible putty knife
Assortment of Brushes that include: # 6 round, #8 bright, # 6 Filbert, #12 Flat, # 1 Round
Glue and Varnish Furnished, Please bring $ 10. to $ 15. to workshop to reimburse Instructor.
The following is a list of suggested collage materials, you can use some of these or add to them, please know we will be doing a piece that illustrates or conveys a significant event in your life using Metaphor as the means of communication.
Old Art reproductions
Engravings
Posters
Bills
Receipts
Price tags
Labels
Catalogs
Magazines
Newspapers
Comic strips
Greeting cards
Corrugated card board
Packing materials
Diaries
Journals
Dress patterns
Sheet music
Foil papers
Wall paper
Letters
Envelopes
Postcards
Stamps
Maps
Dried leaves, flowers
Travel folders
Photographs
Playing cards
Shopping bags
Ticket stubs
Programs
Tissue paper
Typing paper
Wrapping paper
Pages from old books
Cloth material