Dates:
01/07/2017 - 02/04/2017
Meets on:
Saturday
Time:
9:30am - 11:30pm
Tuition:
$200
Level:
Ages 8 - 11
Instructors:
John Freeman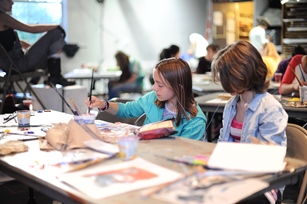 Designed to help your young artists find their own creative voice, Gage's Skill Set: Foundations of Creativity (ages 8-11), is a fun and unique opportunity for students to build their artistic arsenal for art-making. During this 5-week program, students will learn foundational skills in art-making for drawing and painting, along with helping boost creativity, expression and confidence in a supportive and collaborative environment.

Learn traditional skills in drawing and painting while also exploring new and more alternative approaches to mark-making outside of the standard pencil or brush. Throughout the five-weeks, young artists will explore figures, portraiture and illustrative art, all while using a variety of mediums and processes. Lastly, this class will cover the power of visual interpretation in art – encouraging students to find a method of creating art and looking at art that evokes a personal connection.
Please contact us about registering for this program.
FOR MORE INFORMATION…

Please click here to learn more about your instructor, class level and medium. For specific inquiries, emails may be directed to this instructor here.

After you have registered, we will shortly send out an email that includes information such as parking, classroom location, etc.

**EARLY MEMBERSHIP REGISTRATION WILL BE AVAILABLE NOVEMBER 10TH. REGISTRATION FOR THE PUBLIC WILL BE AVAILABLE NOVEMBER 14TH. To learn how to become a member, please go here.