Dates:
04/03/2017 - 04/07/2017
Meets on:
Monday Tuesday Wednesday Thursday Friday
Time:
9:30am - 4:30pm
Tuition:
$660
Level:
All Levels Welcome
Instructors:
Al Gury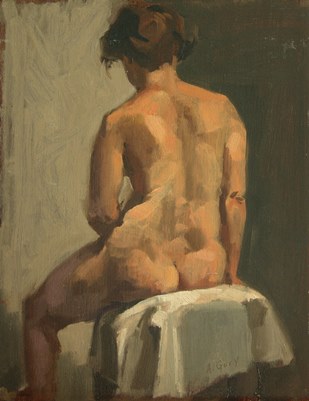 Discover a practical approach to drawing the figure taught by the Chair of Painting at the Pennsylvania Academy of the Fine Arts. Students focus on the translation of anatomy directly into life drawing skills.

Explore the history of life drawing, the structural system, balance and proportion.

Explore the structural shapes and large central forms of the figure as well as secondary structures and shapes of the limbs; gain an understanding of joints and connections between forms, foreshortening, the head and understanding portraiture as you draw from the life model.

ABOUT THE INSTRUCTOR
Al Gury is Chair of the Painting Department of the Pennsylvania Academy of Fine Arts in Philadelphia. An artist, educator, and author, Al received his BA in fine arts and humanities from Saint Louis University, a four -year Certificate in Painting from the Pennsylvania Academy of the Fine Arts (PAFA), and an MFA from the University of Delaware. A painter of the figure, landscapes, still life's and portraits, Al's work is regularly shown by F.A.N. Gallery in Philadelphia. His paintings have also been exhibited at the National Academy of Design in New York, the Philadelphia Museum of Art, the National Capitol in Washington D.C., Washington and Lee University, the University of Pennsylvania, and galleries across the country.
FOR MORE INFORMATION…

Please click here to learn more about your instructor, class level and medium. For specific inquiries, emails may be directed to this instructor here.

After you have registered, we will shortly send out an email that includes information such as parking, classroom location, etc.

**EARLY MEMBERSHIP REGISTRATION WILL BE AVAILABLE NOVEMBER 10TH. REGISTRATION FOR THE PUBLIC WILL BE AVAILABLE NOVEMBER 14TH. To learn how to become a member, please go here.

Supply List

18X24 white drawing pad and drawing board (newsprint of fine for sketches; better paper for longer drawings)

Toned paper and white chalk

soft vine charcoal

kneaded eraser

notebook for note taking

optional:

pencils

pastels

watercolors and inks

any drawing media